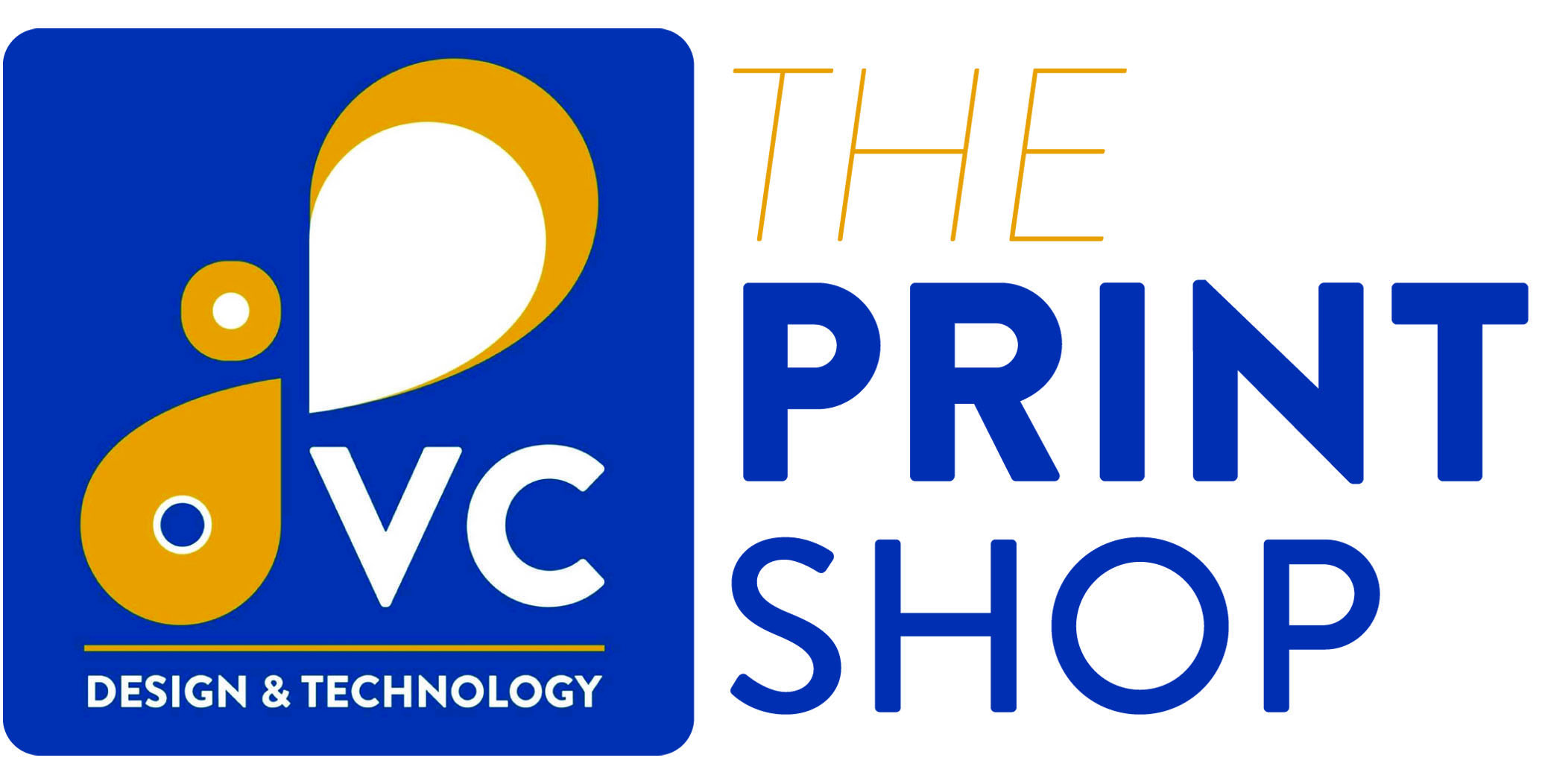 WELCOME!
Our Visual Communications - Design and Technology program has a state-of-the art lab with a wide variety of printing equipment specializing in digital printing, pad printing, screen printing, dye-sublimation, wide-format printing and vinyl graphics, laser engraving, along with a variety of finishing and binding technologies.
We provide In-House printing services to the College. Students have the opportunity to work in the print shop to receive additional hands-on training through Internships and Work Study. This provides them with a wide variety of skills to enter the workforce.
All graphic design requests must go through the Strategic Communications department.
There are exceptions, such as:
Letterheads, Envelopes, and Business Cards
Some promotional items
Program Check Sheets

Note: any graphic design completed by The Print Shop will be approved by the Strategic Communications department prior to production.
Want to see our work?
Check out what we've been up to.
Collateral Materials
Signage and Stickers

brochures
programs
booklets
post cards
posters
letterheads
envelopes
business cards
and more

banners
display signs
yard signs
stickers
name badges
magnets
wall wraps
window wraps
vehicle wraps
and more

T-Shirts
Promotional Items




screen printed
full-color
dye-sublimation
heat-press vinyl





mousepads
coasters
key chains
tote bags
pens
cups
mugs
laser engraved products
and much more
Price Guide
BANNERS
SIGNAGE
STICKERS

2"x4" $8.00
28"x6" $15.00 28"x8' $20.00
28"x10" $25.00
3"x8" $24.00
4"x6" $24.00
4"x8" $32.00
4"x10" $40.00
5"x8" $40.00
5"x10" $50.00

---

SPIDER BANNERS

24"x63"plus stands$15.00
24"x72"plus stands$20.00

---

Additional Sizes and
Stands will be Estimated

COROPLAST
18"x24"(1side) $4.00
18"x24"(2sides) $5.25
24"x36"(1side) $10.00
24"x36"(2sides)$13.00
STAKES $O.80

---

ALUMINUM
18"x24" $10.00


---

PVC

18"x24" $6.00

---

Additional Sizes and Signboards will be Estimated

---

WALL WRAPS
To be Estimated


PATHFINDER STICKERS
3.5"x4" $85/M
2.5"x4" $65/M
8.25"x10" $120/M
1.75"x2" $30/M

---

OTHER STICKERS

"I Visited"3.5" $80/M
Alumni 4.5" $75/M
BSCTC Bound 1"x2" $15/M

---

Additional Sizes will be Estimated M = 1000

---

VINYL LETTERING
To be Estimated

POSTERS & CARDS
MISCELLANEOUS
MISCELLANEOUS

POSTERS(#80 cardstock)
11"x17"(No bleed) $0.10/ea
11"x17"(Withbleed)$0.15/ea


---

POSTCARDS/CARDS (80# cardstock)
3.5"x5" $10/M
4"x7" $22/M
5"x7" $22/M
5"x5" $20/M
5.5"x5.5" $26/M
4.5"x5.5" $15/M
4"x6" $20/M
5.5"x8.5" $22/M
3"x8" $26/M
Rack Cards 4"x9" $22/M
4.5"x10" $30/M

---

BUSINESS CARDS
3.5"x2" $4/M

---

FOLDED CARDS
3.5"x5" $14/M
4.25"x5.5" $21/M

---

Additional Sizes will be Estimated

*M=1000

NOTECARDS
(C1S Paper)
4.24"x5.5" $21/M
5"x7" $46/M

---

BROCHURES
28# Paper-No Bleed
8.5"x14" $35/M

---

24# Paper - No Bleed
8.5"x11" $23/M

---

70# Text Paper - with Bleed
8.5"x11" $19/M

---

100# Silk Text - with Bleed
8.5"x11" $25/M

---

FLYERS/SINGLE SHEETS
24# Paper-No Bleed
8.5"x11" $0.02
/ea

---

70# Paper - with Bleed
8.5"x11" $19/M

---

COLORING BOOKS
Big Sandy $0.50
/ea
Entreprenuer $0.40
/ea

---

Additional Items will be Estimated


*M=1000

LETTERHEADS
25% Cotton $42.25/M
70# Text $33.40/M
Digital Writing $38.55/M

---

ENVELOPES
(A2) 4.375"x5.75" $61/M
(A7) 5.25"x7.25" $60/M
#4 Baronial $54/M
#10 $27/M1
#10 Window $35/M
0"x13" $30/100

---

CARBONLESS FORMS
2 Ply.......................$5/100 sets

---

SHIPPING LABELS
3.5"x5"(5168).................$53/M

---

BOOKLETS
To be Estimated

---

Additional Items will be Estimated

*M=1000
DON'T SEE YOUR ITEM?
CALL LORI LEWIS @ 606-788-2819
FOR AN ESTIMATE, OR EMAIL AT
lori.lewis@kctcs.edu