In Honor of Robert R. Allen, First Academic Dean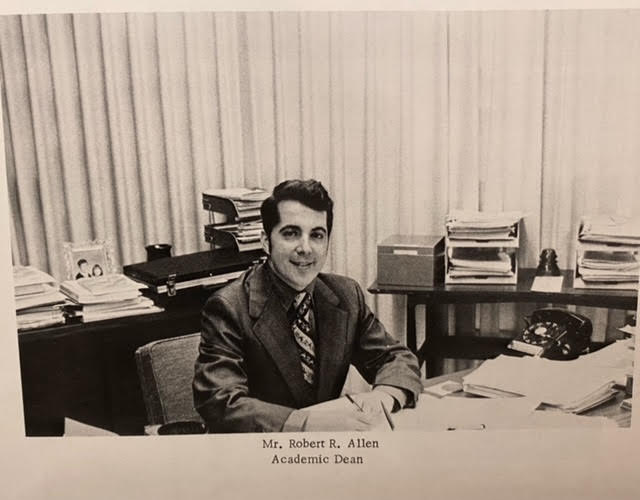 Big Sandy Community & Technical College honors the legacy of Dean Robert R. Allen, who passed away on September 9th, 2022. Allen served for over twenty-five years as the college's Academic Dean. He will always be remembered for his compassion, wit, and encyclopedic memory.
In 1968, Mr. Allen began his beloved career at Prestonsburg Community College (PCC) as an English Professor and Associate Director. Mr. Allen was later appointed the first Dean of Students and Admissions Officer/Registrar at PCC. The next year he was appointed the first Academic Dean of PCC where he served for many years. Dean Allen loved the students and the college. Countless students have told stories about his compassion and the tremendous role he played in their successes. Dean Allen worked tirelessly for the betterment of the college and was instrumental in starting the Drivers' Education and Nursing Program at PCC. Dean Allen transformed the college and made higher education an opportunity for all.
As the first person to arrive on campus every workday, Dean Allen always met students and faculty with a warm smile and handshake, and his door was always open to visitors.
Dean Allen possessed a deep love for his family, community, and education. He held the profound understanding that the college could only thrive with the community's support-- and that the community needed a college to enhance educational opportunities for people living in the mountains.
PCC/ BSCTC Professor Tom Matijasic shared his thoughts, "For Dean Allen, students were not numbers on a ledger. They were the children of his neighbors, friends, and relatives. He was vested in the community, and because of his commitment and dedication, the people of Eastern Kentucky trusted him to provide their children with a quality education. He never let us down."
Allen retired in 1995 to devote the rest of his life to his family and his beloved grandchildren.
Dean Allen, thank you for your guidance, your compassion for student success, and your legacy of dedication to PCC and those in the mountains.