McCall Art Gallery of BSCTC to Exhibit Works of Heather Branch Owens and Son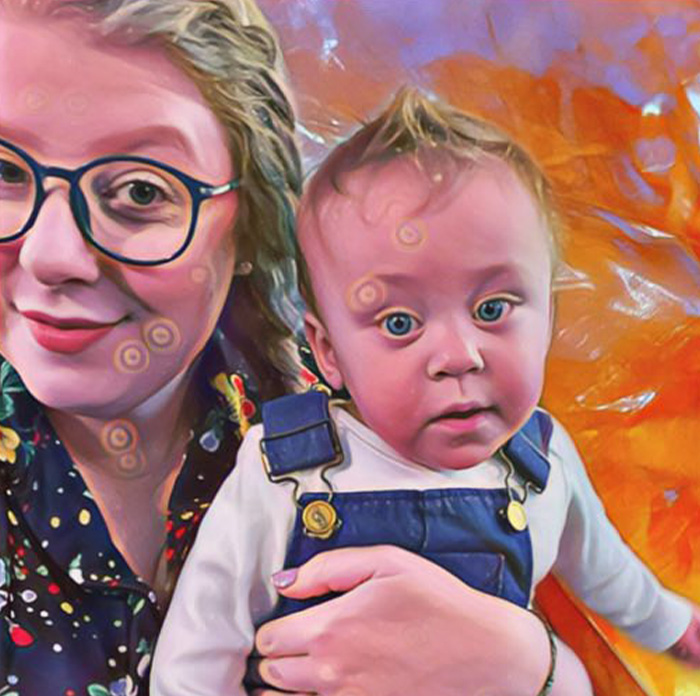 The McCall Art Gallery of Big Sandy Community & Technical College will exhibit "Chicken Nuggets," the latest works of artist Heather Branch Owens and her ten-month-old son, Finnian.
Heather Branch Owens is the owner and proprietor of The Mountain Muse in Prestonsburg, KY and her specialty is all things eclectic, strange and unusual. Heather works with various types of media and is always testing something new, whether is a new tasty treat or an art concoction. Although she is originally from Salyersville Ky, she now resides in a small shroom, and dust-covered nest tucked in a row in downtown Prestonsburg KY with her little boy Finn, three dogs, a cat, and a husband.
Finnian Owens is the newest addition to the Owens nest, being both a surprise and a miracle balled into a bright-eyed wild creature. Finn is quite the color expert, as he has been given the job of color picker (and chewer) and canvas wallerer of this collection. Finnian is currently 10 months old.
Join us for a reception to celebrate the opening of "Chicken Nuggets" on October 26 at 3 pm on the Prestonsburg Campus.
For more information, please contact Matt Smith at msmith0587@kctcs.edu
###
Big Sandy Community & Technical College (BSCTC) provides accessible quality educational opportunities for student success, promotes economic growth, and enhances its constituents' quality of life. BSCTC is recognized as the right choice for higher education; academic achievement; cultural enrichment; student success; and community, workforce and economic development. With campuses in Prestonsburg, Paintsville, Hager Hill, and Pikeville, BSCTC offers 30 programs and more than 200 credentials. Visit www.bigsandy.kctcs.edu to learn more.