Breeanna Hunter, A Better Life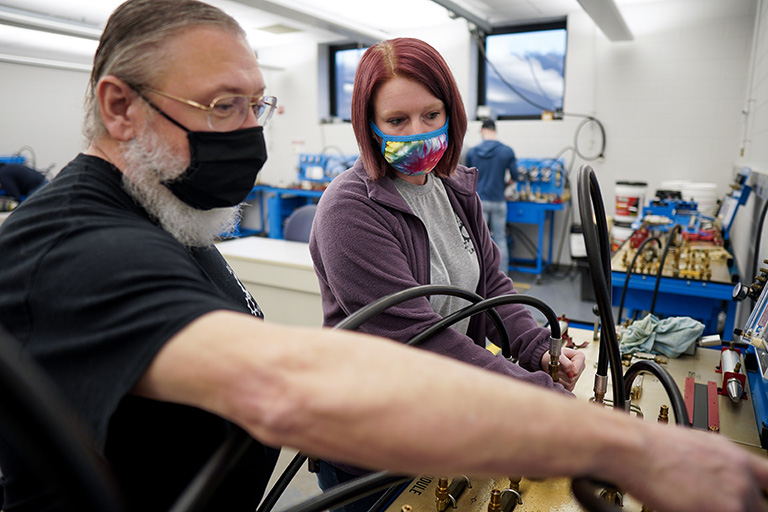 Want to know a combination that works? A degree that leads to a better life? BSCTC is pleased to announce Breeanna Hunter just graduated with an Associate of Applied Science degree in Industrial Maintenance Technology (IMT). This means she knows a lot about a lot when it comes to machinery and maintenance. She is a problem solver when machines break. She is an inventor of parts to make machines work when there isn't a part that hasn't been built yet. That's industrial maintenance technology at its finest—Breeanna Hunter.
Life hasn't been easy for Breeanna. She's suffered tragedy and heartache when her husband was killed in an auto accident. She determined to make life work, dusted herself off and enrolled in college to make a better life for her two children.
Breeanna came to Big Sandy from the gold mining industry in South Carolina. She already knew how necessary it was to have qualified maintenance personnel for machinery. With a 4.0 GPA, she conquered the IMT program.
On May 10, 2022 she began her new career at a Target Distribution Center in South Carolina as a maintenance technician. The company provided moving expenses, and her pay started at $31 an hour-- plus excellent benefits.
Breeanna is thankful for her journey and proud of her perseverance. She is her kids' hero—and her better life is now. Big Sandy sends a million congratulations to you, Breeanna! You make us proud!
For more information about the IMT Program, contact Charlesk.moore@kctcs.edu or call 606-886-3863 to enroll.
Photo Caption: Professor Charles Moore instructs Breeanna Taylor at BSCTC Pikeville Campus.
###
Big Sandy Community & Technical College (BSCTC) provides accessible quality educational opportunities for student success, promotes economic growth and enhances the quality of life of its constituents. As the region's premier community and technical college, BSCTC is recognized as the first choice for higher education; academic achievement; cultural enrichment; student success; and community, workforce and economic development. With campuses in Prestonsburg, Paintsville, Hager Hill and Pikeville, BSCTC offers 30 programs and more than 200 credentials. Visit www.bigsandy.kctcs.edu to learn more.