Hugo Sperger Exhibit at McCall Art Gallery of BSCTC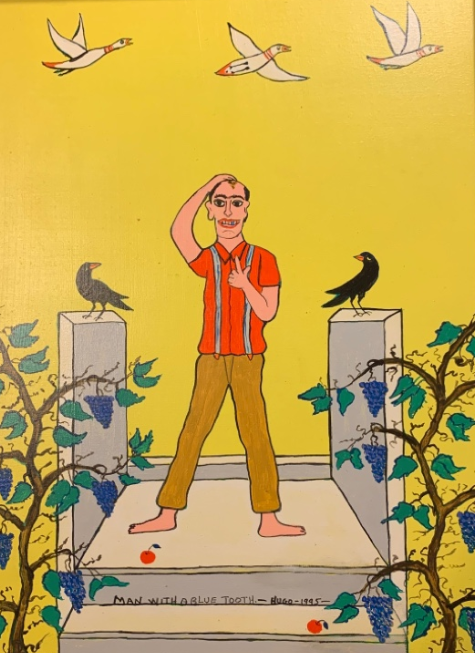 Big Sandy Community & Technical College is pleased to exhibit the works of premier folk artist Hugo Sperger beginning January 25 at the McCall Art Gallery of the Prestonsburg Campus.
Born in Northern Italy to German parents in 1922, Hugo Sperger's family immigrated to America through Ellis Island in 1929. Hugo grew up in a farming community in upstate New York and went on to serve his country in the Pacific during WWII. Coming home a decorated Army veteran, he married Faye Reed and moved to her home community of Salyersville, Kentucky, where they raised two boys among the hills and tobacco fields.
Sperger's life then changed after being diagnosed with cancer in 1970. While battling his illness, Hugo occupied his time painting and carving. Over 20 years later he would succumb to his illness at the age of 74, leaving a large body of work with a variety of themes. McCall Gallery Co-Directors Tina Ousley and Tim Smith stated, "The curation of this exhibit was really very fascinating in scope and color. We are honored to exhibit the Sperger collection, as it speaks to our folk roots and art in central Appalachia."
Sperger, also known as the "Kentucky mountain Hieronymus Bosch" represents the best sculptors, painters, carvers, and basket weavers—artists who use materials natural to their environment such as wood, clay and scrap metal. Their influences are often Biblical, their inspiration drawn from a close relationship with nature. Most of these artists never studied sculpture or painting or been to a museum or gallery. And yet their creations have crossed the elusive line beyond which craft becomes art. Dr. Sherry Zylka, President/CEO of BSCTC stated, "The Mcall Art Gallery is a jewel of BSCTC, and we welcome all to our campus to share in the unique of experience of art in real time."
The McCall Gallery will host an opening reception on January 25, 3:30-5:30. The exhibit will run from January 13 through February 14. The McCall Gallery is free and open to the public. Gallery hours are Monday through Friday 8:00 am – 4:30 pm.