Notes on a Graduation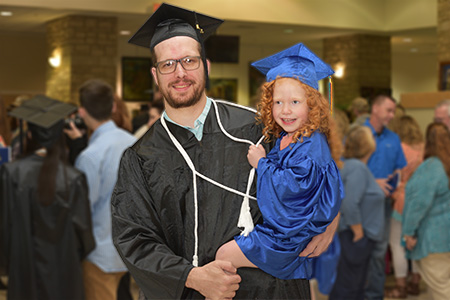 William Carty is a father, husband, Appalachian, scholar-coal miner, Magoffin Countian, and a recent graduate of Big Sandy Community & Technical College.
William is a revolutionary thinker who sees beyond the labels and stereotypes. He does not accept the excuses that have prevailed in central Appalachia. You know the ones: those ideas that hold us down and tell we are not enough. William challenges these myths through rigorous academic pursuits—far beyond the assigned readings from his classroom studies. William always seeks more insight into what leads people to think the ways we do.
Although he is currently pursuing is bachelor's degree, William has already begun writing his doctoral dissertation, because he knows without a doubt that he will need it very soon. He is following passion, but he concedes that "every writer's enemy is time."
William will soon become a second-generation special education teacher. Watching his mother struggle to earn her education degree as a non-traditional student was one of the major reasons he chose to go into education as well. William loves working with kids, especially middle schoolers. Science and history are his areas of specialization, although he also loves philosophical debate.
William isn't finished there. His long-term goals include principalship; Ph.D. in educational research; his end game is a curriculum analyst at the U.S. Dept of Education.
Perhaps stories of graduates will persuade you to take the great leap of faith and enroll in BSCTC. If you are curious to speak to someone about programs, classes, etc., please contact Carla Branham at 889-4827 or visit our website at www.bigsandy.kctcs.edu