Visual Communications Expands to Pikeville Campus
BSCTC's Graphic Design, Photography, Videography & Mixed Media Degree Expands to Pikeville Campus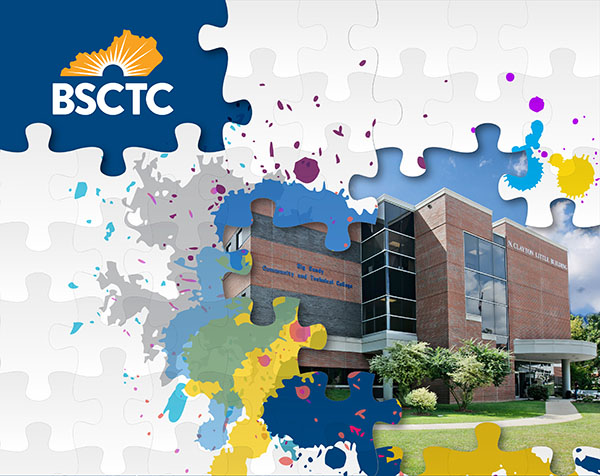 These are exciting times for creative people in central Appalachia! Growing industry and economic development require creative and artistic people who are skilled in graphic design, photography, videography, and mixed media to market businesses, organizations, and to tell the story of the region through visual communication.
As a result of the growing need of creative specialists, BSCTC has expanded its Visual Communications Program to its Pikeville Campus. The program emphasizes creative problem solving and insight into the mix of art, design, and technical competence. This program includes a Graphic Design track, an Interactive Design track, and a Production Design track, with a core of courses common to all.
The core includes general education components essential to a collegiate education and technical courses giving students an introduction to drawing, graphic design concepts, and computer graphics. In addition to core courses, students will take specialty courses for their selected option. Students may also choose to receive a certificate in these areas and an additional certificate for digital photography.
The Graphic Design track emphasizes several aspects of design in advertising, packaging, print media, and corporate identity. Students completing this track will design advertising for newspapers, magazines, promotions, and indoor/outdoor signage. Students will also identify and design a variety of packaging and printed materials, such as labels and boxes, brochures, menus, stationary sets, booklets, and newspapers. Prospective employment opportunities are in advertising agencies, graphic design studios, news media, department stores, and other creative services departments and businesses.
The Interactive Design track provides students with a mix of computer animation, webpage design, and digital video production. Students completing this option are prepared for entry-level positions in advertising agencies, graphic design studios, web design and video production studios.
The Production Design track provides students training in the operation of various print production equipment and vinyl graphics. Students will learn skills to design and produce a wide variety of printed materials, promotional items and signage. Students completing this option are prepared for entry-level positions in various types of printing and signage companies.
When interviewed about the Visual Communications Program expansion to the Pikeville Campus, Dr. Sherry Zylka, President/CEO of BSCTC explained, "We are experiencing such positive growth in central Appalachia, and it demands the support of marketing specialists who have vision and the technical expertise to promote the work that is being accomplished. There is a great need for everyone, especially artistic people, to participate to make our region productive and economically viable."
Classes for the Visual Communication Program are held face-to-face on the Mayo Campus and Pikeville Campus as well as online. Students can earn an associate in applied science degree in two years if they maintain full-time status.
To enroll in the Visual Communications Program for this fall semester, please call Assistant Registrar Carl Branham at 606-889-4827 or email Carla.branham@kctcs.edu