Mary Stapleton Finds Her Future Overseas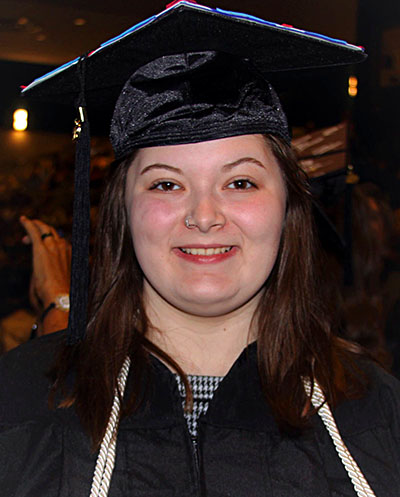 Mary Mahalie Stapleton just graduated BSCTC this May with an Associate in Arts degree. She is a talented creative writer with a keen analytical mind whose curiosity to see the world was realized when she traveled to England one year ago. Mary fell in love with the English countryside of her favorite classical novels. She became fascinated with the castles and ruins of Canterbury and surrounding hamlets. Mary immediately felt at home in the English culture of her Appalachian ancestors.
Very quickly it was confirmed to Mary that she belonged in England. She loved the close proximity to Paris and all of western Europe, and the salty air of the Cliffs of Dover spurred her to take a chance and walk in the University of Kent, Canterbury, to speak with the admissions coordinator about scholarships for American students.
Acting on her instinct to be bold and take a chance landed Mary exactly where she has always wanted to be. Through a tedious application and interview process that has spanned the last year, Mary has been awarded a full scholarship to the University of Kent, Canterbury to pursue (roughly) the equivalency of a bachelor's and master's degree in English American literature and creative writing.
Upon completion of her master's courses, Mary will automatically become employed as an English teacher in a British secondary school. She plans to live there permanently, because she loves the art museums, cathedrals, and ancient history of England. She adores the fact that she will "never be more than thirty minutes away from a castle; never more than thirty minutes away from the next great adventure."
The quality of life, traditional education, and culture of England fascinates Mary. She stated, "When you come from a small town in eastern Kentucky, you do not think deserve to ever experience a new world," but Mary's dreams are coming to fruition through hard work, vision, and courage.
Mary celebrates the time she spent at BSCTC. She feels well-prepared for her studies ahead. Of her time with us, she said, "I loved being on our beautiful campus and the amazing humanities courses that I was fortunate to take. I also loved an online English course taught by Jennifer Koster." Big Sandy Community & Technical College is very proud of its first international transfer student, Mary Mahalie Stapleton!