Industry Problem Solvers: Industrial Maintenance Technology Program of BSCTC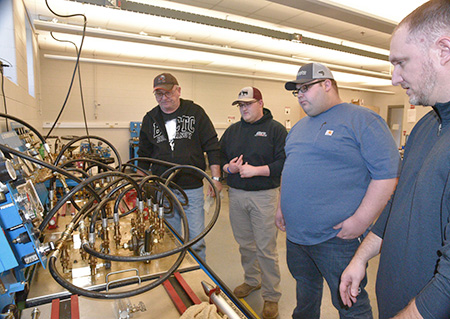 If you are curious about how to fix machines, you just may belong in the Industrial Maintenance Technology Program at BSCTC, because it is the foundation of problem solving in industrial ways. Industry employers seek problem solvers who possess the knowledge and training to repair equipment of any kind, and the Industrial Maintenance Technology Program (IMT) provides that foundation. All industry seeks trained and experienced people power. When employees possess the hands-on skill set to not only repair equipment, but to improve equipment, and even invent new equipment, industrial revolutions happen.
IMT student Jeremy Smith was an underground coal miner for many years. He hated his job, and then his job ended. Jeremy knew he wanted to work with his hands, and so he enrolled in this program led by Charles Moore. When he was asked about how he feels about the program and living in 2019 he said, "I don't like how we've become a consumer society. While I've been in this program, I have fixed my washer twice. Before [this program], I would have scrapped it and bought a new one. This program teaches you the mindset and knowledge to fix anything industrial. And there is a great sense of accomplishment when you repair and solve problems." Jeremy, who graduates this May, is currently juggling job interviews with the last few weeks of school.
Kenneth Boggs thought he was bound to work in a health field. He pursued a four-year degree, and he learned something very valuable about himself, "I hated traditional college—every aspect of it. I just hated my life. I ran into a friend from high school who told me about the IMT Program. This friend was graduating and was working in the field. I didn't know a thing about industrial maintenance when I enrolled in the program, but I was curious about it. Professor Moore helps his students every single step of the way. Now I'm graduating and moving to Chattanooga for industry."
Lee Fergus, a certified electrician, has worked in industry for many years. He thought he knew everything there is to know about industrial maintenance, but upon entering the program, he found out very quickly that there's so much more to learn.
Industry is always moving and growing and changing. There is so much innovation happening every day, and a program such as the Industrial Maintenance Program provides the opportunity to think big-picture solutions.
Kameron Childers works in his family's heavy equipment business, and he runs his family's farm while and services their farm equipment. Kameron hopes to one day run his father's business and he is in the program because he will need the foundational knowledge of industrial repair.
The Industrial Maintenance Technology Program trains individuals to maintain and repair industrial equipment and machines in manufacturing, construction, and buildings/industry structures. Students in this program will become proficient in the areas of machine tools, welding fabrication, electrical troubleshooting, hydraulics/pneumatics, knowledge of industrial mechanical drive systems, PLCs, as well the ability to interpret blueprints and schematics. Additionally, students develop skills in the use of testing equipment, precision measuring instruments, as well as electrical, mechanical, hydraulic and pneumatic processes applicable to industry machinery.
For more information about the Industrial Maintenance Technology Program, please contact Program Coordinator Charles Moore at 606-218-1244 or email charlesk.moore@kctcs.edu