Cosmetology & Entrepreneurship at BSCTC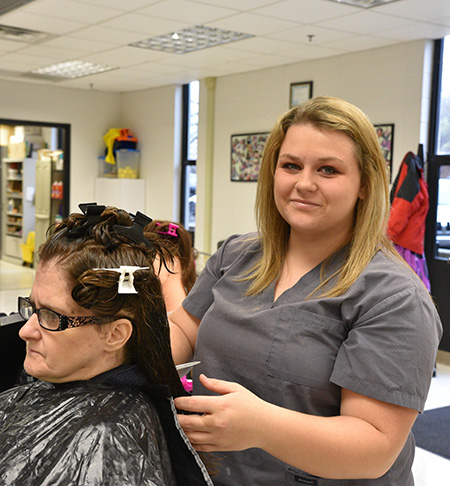 We go to the beauty salon because when we look good we feel good. The salon is centering in a strange mix of ways. We go to retreat and to slow down and be pampered. Right outside its windows, the world spins at break-back speed, but we can count on the calming effect within the salon walls. Inasmuch, we depend on our beauticians and the ways they put us back together when life is just too much. The salon is a social hub, an encounter with our acquaintances and friends, and so it serves this social function within so many cultures around the world.
The Cosmetology Program at Big Sandy Community and Technical College is this rare gem. Its atmosphere is one of a calm and inviting salon, the kind that you want to spend a quiet rainy morning. Its students busy themselves with their clients while Professor McKenzie moves from station to station with instruction. The salon of the Mayo Campus serves first-time clients as well as those who have been coming for over twenty years. When asked about the program, student Lauren Vanhoose said, "When I came to the Mayo Campus and I walked into the salon, I immediately knew it was right for me." Lauren, who comes from a family in cosmetology, knows firsthand the hard work that the career demands, but she likes the flexibility and thoughts of owning her own business.
There is a determined sense of entrepreneurship and an independent spirit within the cosmetology program of BSCTC. Of significant note, the students plan to work themselves into owning their own business. They certainly possess the drive and self-confidence to do so, because they understand the steps it takes to establish a flourishing salon. Kelcie Jenkins commented, "I don't want to be a cashier all my life; in five years I want a strong clientele base and through hard work, time, and persevering, I will get there."
The students of the cosmetology program share their insights and goals of owning their own salon and the hard work and creativity that will make the dream reality. Student Haley Harrison explained, "I like how I feel when I feel pretty". Haley, who spends much of her time reading, shared that she grew up doing 1950s hairstyles for the older generation of her family.
Student Katherine Bailey Powell chose this cosmetology program because she wanted the smaller setting of the community college and the most affordable program. She commented, "One day soon I will own my own shop and I don't want student loans to weigh me down. This program is perfect for me, because the impossible is now possible."
Stefanie McMillian, who is a mother of four children, did not think she would be able to attend the cosmetology program because she was so busy, but she knew she needed the education in order to better support her family. Stefanie also realized that she could juggle her duties temporarily in order to become more financially secure permanently—for her children. So, with determination and with little time for anything else, she is well on her way in the program.
LaShonda Helton, who is a senior, will be employed by a very popular salon in Salyersville immediately following graduation. She added, "Practicing cosmetology requires mutual respect and trust between client and practitioner, and my standards are very high. Professionalism is my focus."
The resounding mantra from the cosmetology students is this: "Do what you love." And with the continual growth of the beauty industry worldwide, there is certainly room for innovation and entrepreneurship with the creation of beauty and health and wellness products. In fact, independent beauty brands and cruelty-free brands are experiencing the highest economic growth in America currently. Beauty standards vary drastically from country to country, but the truth remains the same: the beauty industry in every country thrives. Think about it: when we are in a financial pinch, we still find the money to go to the salon.
For more information about how you can join this dynamic program, contact Vanessa McKenzie at: Vanessa.Mckenzie@bsctc.edu or call 606/789-2826.
The cosmetology program at BSCTC also provides salon services to the community at a much reduced rate. They are open for new clients.