Kentucky Chautauqua® presents Jean Ritchie: Damsel with a Dulcimer at BSCTC
Jean Ritchie (Rachel Rogers), March 5, 2019, Prestonsburg Campus,
Gearheart Auditorium 10:50 a.m.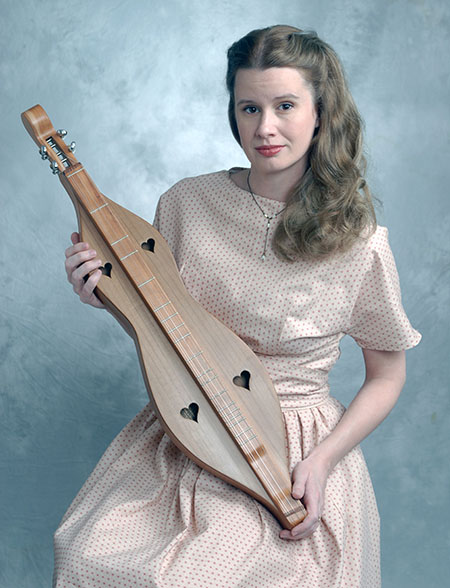 Traditional musician, songwriter, poet, commercial performer, recording artist, author and composer Jean Ritchie, born in Viper, Perry County, Kentucky, in 1922, was the youngest of Balis and Abigail Ritchie's 14 children. She began her recording career in 1952, signing with Elektra Records. Throughout her career she recorded more than 35 albums, which strongly reflect her Kentucky heritage and featured her playing the mountain dulcimer. Known as the "Mother of Folk," Ritchie was a major contributor to the national revival of folk music across America during the mid to second half of the 20th century. Artists including Johnny Cash, Emmylou Harris, Linda Ronstadt, and Dolly Parton have covered her songs. Jean Ritchie was also a gently fierce environmental activist.
Jean Ritchie is portrayed by Rachel Lee Rogers of Versailles. Trained at Northern Kentucky University, Rutgers, and the London Academy of Music and Dramatic Arts, Rogers currently serves as the arts facilitator at the School for the Creative Performing Arts at Bluegrass (SCAPA) and as a local educator. She has been a part of many international, national, and regional productions including performances with the Bluegrass Opera, Woodford Theatre, Actors Guild of Lexington, Lexington Shakespeare Festival, Studio Players, and the Lexington Public Library.
Kentucky Chautauqua is an exclusive presentation of Kentucky Humanities with support from the National Endow­ment for the Humanities and from: Christina Lee Brown, the Carson-Myre Charitable Foundation, the Cralle Foundation, the Elsa Heisel Sule Foundation, Farmers State Bank, the Hayswood Foundation, the Honorable Order of Kentucky Colonels, Morehead State University, Mountain Telephone, Murray State University, Paducah Bank, People's Rural Tele­phone Cooperative, PNC, the R.C. Durr Foundation, and Toyota Motor Manufacturing Kentucky.