Meet the Women of Auto Tech Mayo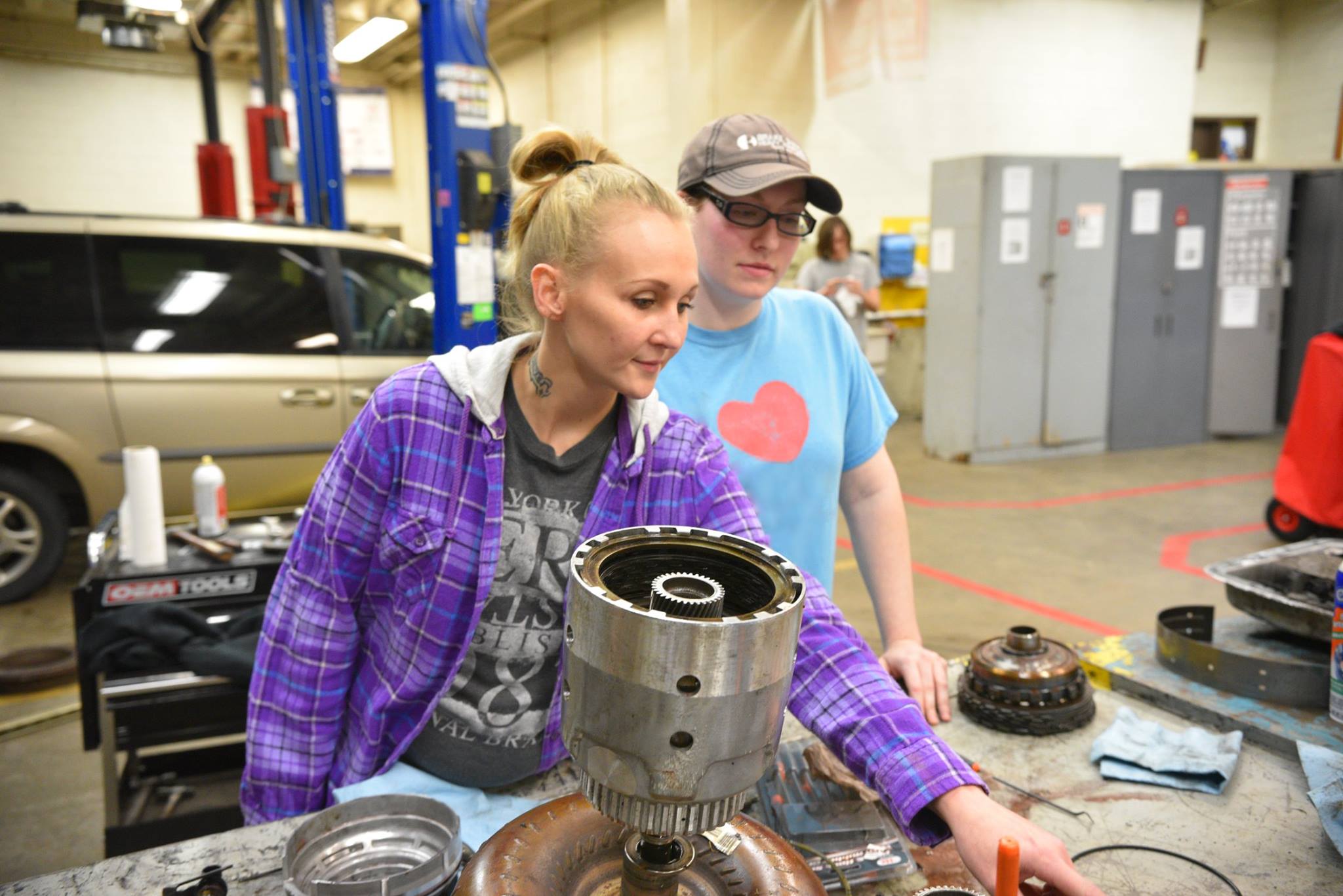 Samantha and Regina love everything about motors. Samantha loves the outdoors and motorbikes, four wheelers, and side-by-sides. With her love of off-roading, scaling-the-side-of-hills adventurous spirit, she is earning a degree in Automotive Technology at Mayo Campus. Regina loves lightning- fast cars and a quarter-mile strip. She loves the sleek lines and aerodynamics of a dragster or a "digger", and she, too, is earning a degree in Automotive Technology at Mayo Campus.
Regina has known her way around a garage for as long as she can remember. Her eyes light up when she recalls helping her dad bleed brakes when she was just a very small girl. Regina can talk motors all day long—she's a walking encyclopedia of engines, and she's a no-nonsense critic when it comes to improvements to be made in their manufacturing. A particular love of Regina's is a GTO with a nice V8, because "it's small and can be mean just like me." Regina is a second-generation Mayo student. Her dad attended when it was called Mayo Technical School.
"I remember sitting in the driver's seat of that bright orange Camaro in the garage. It was my job to turn the ignition whenever my dad told me to. I loved the feeling of being inside that car and the whole thing! Hearing the engine start up by my hand hooked me into a lifetime love of fast cars. I was only about eight years old—a little girl" (Regina).
When asked about being a woman working in a male-dominated industry, Regina said, "Women have to work extra hard in the auto tech industry. She must have a lot of passion, but women can have a "man's job".
Inspired by her father and grandfather, Samantha recalled that her family were always rebuilding Volkswagen engines throughout her childhood. When asked if she wanted to specialize in repairing imports she answered, "What isn't an import in the auto industry?" Samantha enjoys rebuilding older engines.
Before Samantha enrolled in the Auto Tech program, she earned degree in ultrasound technology. The days of being indoors in a dimly lighted room did not work for her. So, she came back to community college to pursue her dream of becoming an auto mechanic. Her father encouraged her to change careers in order to find personal happiness.
Samantha and Regina work very closely together in the Auto Tech program. They collaborate as a team, and in this way, they are beneficial to each other and their peers in the program. From actual engine swaps to shop talk about cam shafts, timing covers, etc., these women feel as though they have a big responsibility in the pursuit of their careers. They hope they will inspire other women and girls to join the ranks of the auto tech world.
While Samantha and Regina came into the Auto Tech program with varying degrees of knowledge, they were quick to point out that prospective students can come into the program with little to no knowledge and graduate with a promising career in the field.
Lastly, Samantha and Regina agree that the biggest decisions are made and the best conversations are had while driving, and Regina added, "My heaven is in my car!"
For more information about the Automotive Technology Program, please contact Heath Keathley at hkeathley0002@kctcs.edu or Forrest J. Stewardson at forrest.stewardson@kctcs.edu