Ivanka Trump Visits Big Sandy Community and Technical College to Discuss Workforce Development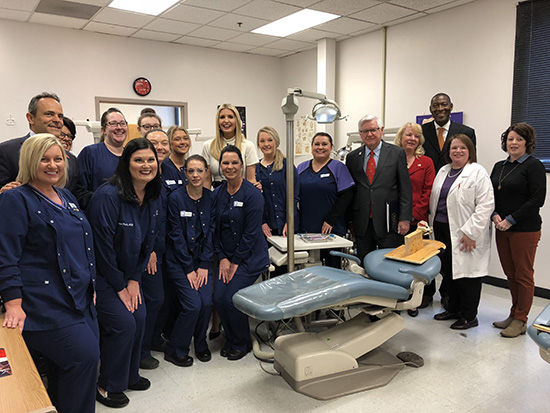 Today, Ivanka Trump, advisor to President Donald Trump, visited Big Sandy Community and Technical College (BSCTC) as part of an eastern Kentucky workforce training tour. She was joined by Gov. Matt Bevin, Congressman Hal Rogers, Secretary of Workforce Development and Education Derrick Ramsey and CEO of Alliance Resource Partners Joe Craft.

Trump, Bevin, Rogers and Ramsey were part of a roundtable discussion along with BSCTC President Sherry Zylka, Hazard Community and Technical College President Jennifer Lindon, students and local business executives.

The students shared their stories of how BSCTC has helped them have better lives through education that has led to new careers. One student said he could not get a job bagging groceries, but now because of his education as a coder, he gets job offers from Silicon Valley. Others talked about earning a GED and then earning college credit for health care careers.

"It was heartwarming to hear the students talk about their success and their plans to continue their education," Zylka said. "We appreciate Ms. Trump's visit to the college to learn about all the great things that are happening in eastern Kentucky and to see firsthand the difference education is making for students, employers and the entire region."

Trump commended the governor, Rogers and Ramsey on the workforce initiatives they've developed in Kentucky. Lindon also thanked the governor for creating the Work Ready Kentucky Scholarship, which covers up to 60 hours for associate degrees in occupational programs.
The group also visited East Kentucky Advanced Manufacturing Institute in Paintsville and ended the day at Morehead State University's Space Science Center.