Big Sandy Alumni Graduates from Judge Advocate General's Corps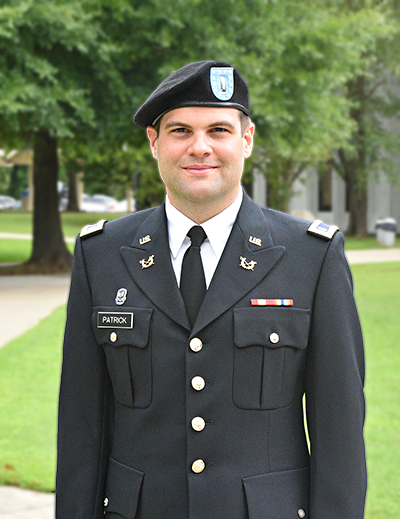 Published: October 1, 2018
Brad Patrick from Salyersville in Magoffin County was your typical high school student ready to spread his wings. After beginning at a four-year university and wanting a small college feel, he found his true starting point at Big Sandy Community and Technical College (BSCTC).
Brad spent his time studying and spending time with friends and soon completed his Associate in Arts in 2004.
"I would encourage any student thinking of going to college to start at Big Sandy. I learned a lot from the professors and was ready to finish my degree," said Patrick.
Brad moved on to pursue his Bachelor's Degree in Political Science from Eastern Kentucky University (EKU). While at EKU he served as the Clerk of the Student Court and interned under Congressman Ben Chandler in Washington, D.C. After graduation, Brad returned home to Salyersville and began working in the construction industry as a Union Pipefitter.
With a thorough interest in politics for most of his life, Brad soon turned his studies towards a Master's Degree and moved with his wife Rachel to Louisville and completed the Masters in Arts and began working toward his Juris Doctor degree. Prior to graduation Brad served as a member of the Journal of Animal and Environmental Law, worked for the Commonwealth Attorney for the 36th Judicial Circuit, and clerked for then Supreme Court Justice Will T. Scott and later graduated with the Juris Doctor degree from the University of Louisville in 2014. After returning home from Law School, Brad ran for Property Valuation Administrator in the local election.
"Brad is one of BSCTC success stories. He was always engaged in the classroom and continued his enthusiasm for learning when he transferred to EKU and the University of Louisville Law School. His dedication to scholarship and patriotism should benefit both our country and our region," said Dr. Thomas Matijasic, BSCTC History Professor
Brad still wanted to do more. With a solid foundation in education he began working toward acceptance in the US Army and was granted his commission by President Trump in April of this year and recently completed his military training in Ft. Benning, GA. Brad went on to complete the Judge Advocate Officer Basic Course and is assigned to the 153rd Legal Operations Detachment in Cross Lanes, WV and will begin working for the Social Security Administration in September.
"I was honored to return to BSCTC, it's where I found a great foundation for my education." said Patrick.
Brad recently returned to BSCTC where he served as the guest speaker for the 2018 Patriot Day Ceremonies on the Mayo campus and joined in the ceremonies on the Prestonsburg campus.