BSCTC Builds Another Gorgeous House at Cross Creek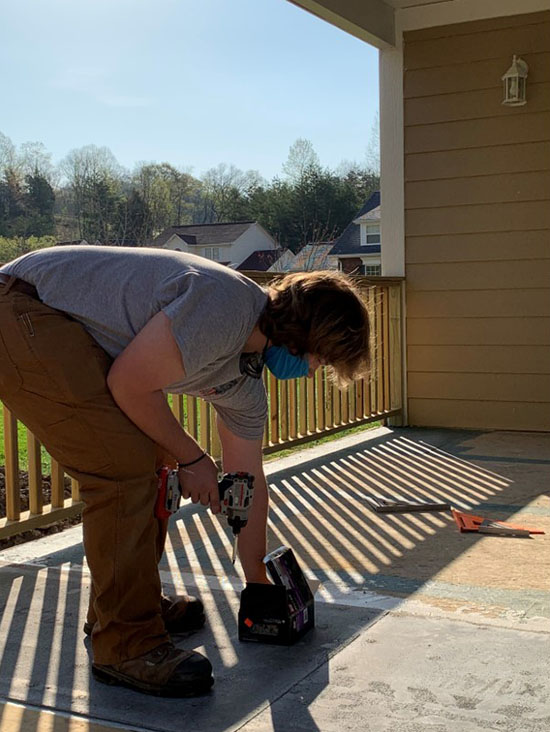 BSCTC's Construction Technology Program recently completed its seventeenth house build in Cross Creek, Paintsville. The build began in September 2018, and the finishing touches are being completed now. BSCTC will soon sell the house, and the revenue will fund the construction program to build another house.
The 2,000 square feet home has three bedrooms, two and a half baths, and a two-car garage. With dimensional shingles, cathedral ceilings, tray ceilings, and a covered porch, the home is built with spacious comfort in mind. A large deck overlooks a large backyard.
A custom walk-in shower is beautifully tiled, and a heated jacuzzi tub invites the weary at the end of a long day. A convenient custom kitchen equipped with stainless steel appliances is designed to be the centerpiece of the home. Solid hardwood flooring sprawls throughout the house.
The Construction Technology Program at BSCTC prepares students with the skills and knowledge necessary for a career in building homes and businesses. Students will study blueprint reading, site layout, foundation work, rough framing, roofing, finish work, cost estimating, material preparation for construction sites, and practical experience in the carpentry shop.
Carpenters work in building buildings with specialty trade contractors, manufacturing firms, government agencies, retail establishments, and a wide variety of other industries. You can earn an associate in applied science degree in two years if you maintain full-time status.
Along with the construction/masonry program, Air Conditioning Technology and Electrical Technology students worked to complete the home.
BSCTC President Sherry Zylka shared her thoughts on the project, "It is a perfect time to enroll in the Construction Technology, Air Conditioning Technology, or Electrical Technology Program to learn the trade and earn the certifications by working on a house build—as your classroom."
For information about Construction Technology, contact Professor Randy Haney at randell.haney@kctcs.edu. For Information about the Electrical Technology Program, contact Joe Compton at Joseph.Compton@kcts.edu, and for information about Air Conditioning Technology, contact Keithen McKenzie Keithen.mckenzie@kctcs.edu.
Classes begin August 13, and you may be eligible for financial aid or the Kentucky Work Ready Scholarship. Please stop by our Mayo, Prestonsburg, or Pikeville Campus, and let's talk! A better life is here and now!