#GivingTuesday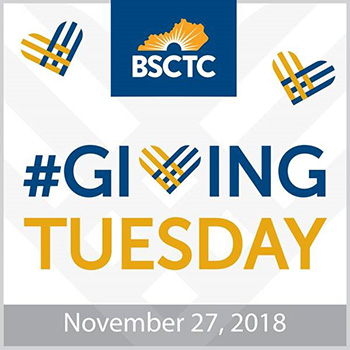 Our goal is to help students during a time of need stay in school and make progress towards a degree.
Whether you can give $5 or $500, your gift will make a difference at BSCTC. When you donate to the #GivingTuesday student emergency fund campaign, your gift will be matched dollar for dollar by one of our compassionate supporters.
The student emergency fund is for students who encounter an unforeseen financial emergency or catastrophic event which would otherwise prevent them from continuing their education at BSCTC. We need your help to build up this fund.
How can I support BSCTC on #GivingTuesday?
Make a gift! #GivingTuesday is all about participation. No matter how much you can donate, you are showing your support of BSCTC students, and your gift matters.

Give today! You don't have to wait until #GivingTuesday to give.



Like and share posts from the BSCTC Facebook page. Don't forget to use hashtags #GivingTuesday and #BSCTC.